What is the Metaverse and what is it NOT?
What is the Metaverse and what is it NOT?


In the past year I'm sure you've heard the word Metaverse a bunch of times, not always even understanding what it's supposed to mean. In this article we'll look into what the Metaverse means, especially in a Microsoft-focused context.
💡
Since "Metaverse" is a pretty loose umbrella term, everyone will interpret it their own way. This article talks about what I think "the Metaverse" is.
One way to describe the "Metaverse" is classifying it as a umbrella term for an even greater level of digitalization of things in the future. The digitalization of meeting rooms and spaces in Mesh for Teams' "immersive mode" is a great example of this.
The main thing about Mesh for Teams is bringing back presence to our meetings, even if they are in the digital realm. Having a "physical space" in the Metaverse working as the office coffee room can be a more inclusive and familiar experience to some compared to a 30 minute booked "coffee session" meeting in everyones calendars.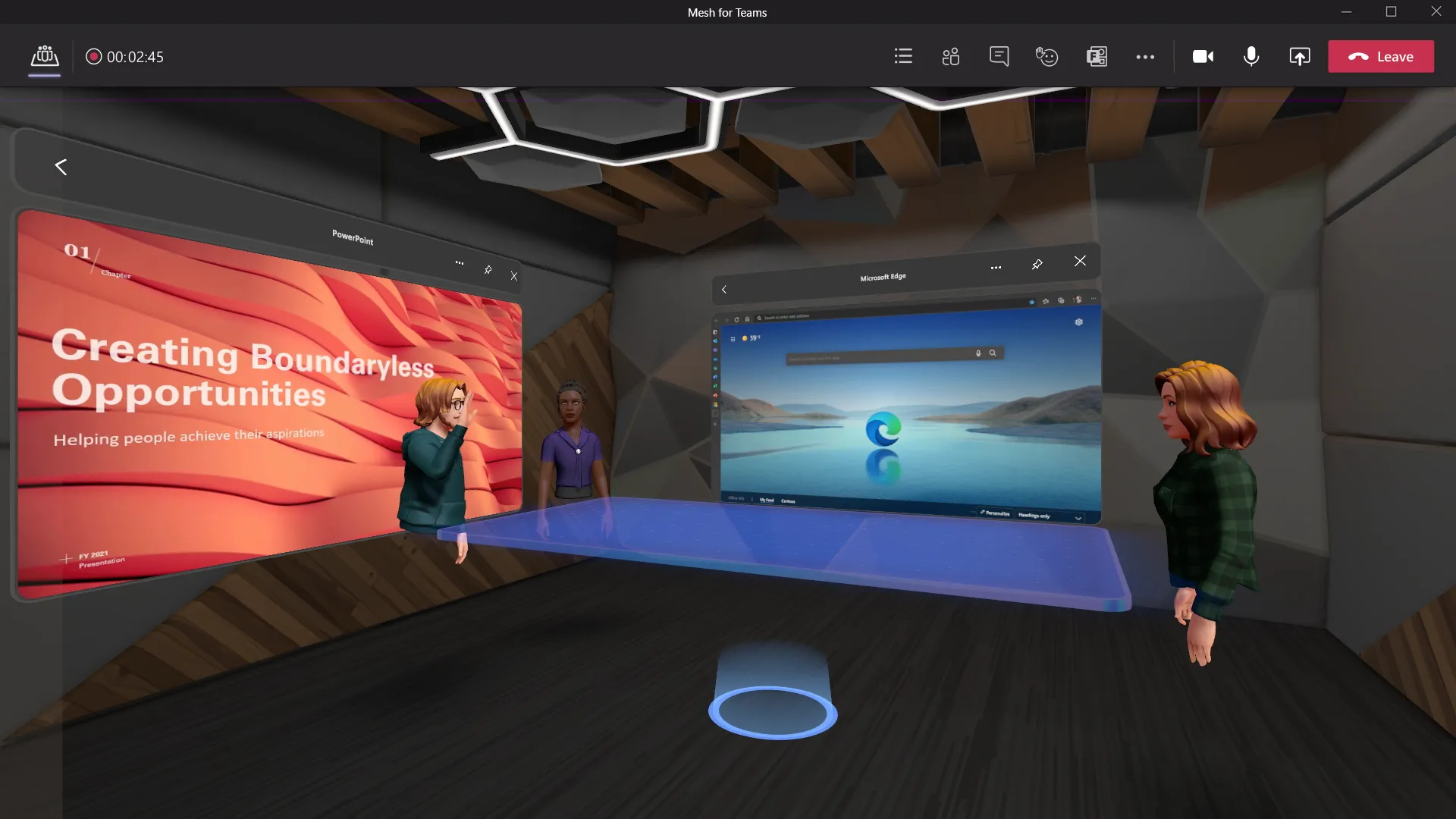 Are you already in the Metaverse?
A great example of the Metaverse already being here is the digitalization of your health data. Many of us wear a smart watch that beams your heart rate and other health information to the cloud 24/7. We can use this data to create a digital twin of ourselves in the cloud, which evolves with us. This digital twin could then be used for many things, like simulating an exercise routine and seeing it's effects on your health in the long term.
Another example from the Microsoft ecosystem of products would be Microsoft Whiteboard. It is a fully digital whiteboard, which is persistent and modifiable from anywhere, can be interacted with in Mesh For Teams, but can also exist in the "real word" with the use of a Surface Hub for example. My colleague Vesa wrote a great blog post about just this on his blog MyMetaverseDay.
What is the Metaverse and what is it NOT?
Metaverse usually gets bundled together with a whole bunch of other trendy buzzwords, which makes all of it much more confusing to understand. So what is the Metaverse not?
Metaverse is NOT  just Web 3.0
Metaverse is NOT just cryptocurrencies
Metaverse is NOT just NFT's
Metaverse is NOT just VR for the masses.
Metaverse is NOT just Pokémon Go.
The Metaverse is about much more than those things. Some parts of the Metaverse will definitely utilize some of these new technologies, but I think the adoption of Metaverse will be much more long-term and not fully just hype (like I think NFT's and Web 3.0 currently are).
Some parts of the Metaverse will be VR, but I think the real future is AR and XR. Using devices like the Microsoft HoloLens with it's Mesh preview has proven, that AR tech will be here to stay in my opinion.
What do you think, is the Metaverse here to stay?