Microsoft Mesh is here! 🤩What's new at Build 2023 💫
The Microsoft Metaverse is not dead! Check out what was announced at Build 2023!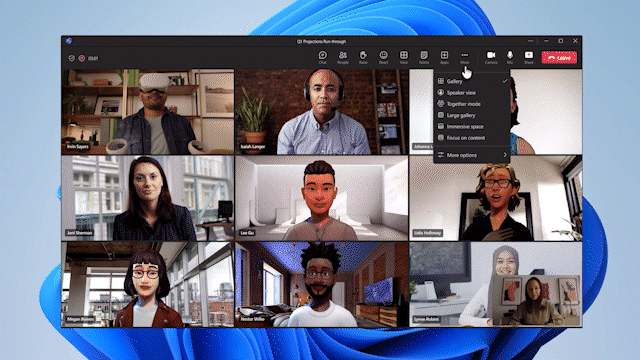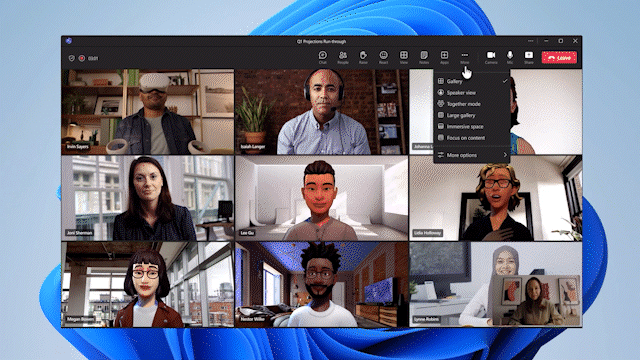 It feels like ages ago that Microsoft Mesh was announced in March of 2021 (maybe because it was quite a long time ago), and after that we have heard only small nuggets of information here and there. But now at Build 2023, we got a whole lot of announcements that are truly cause for celebration! So let's see what got announced and when you can jump into the Metaverse through Microsoft Teams! 🤯

Mesh Avatars in Teams - Now in General Availability!
Mesh Avatars have been the main touch to the Metaverse future in Teams for some time now, first in private preview and even public preview in March. But now, Mesh Avatars are in GA and available to be used by everyone in Teams.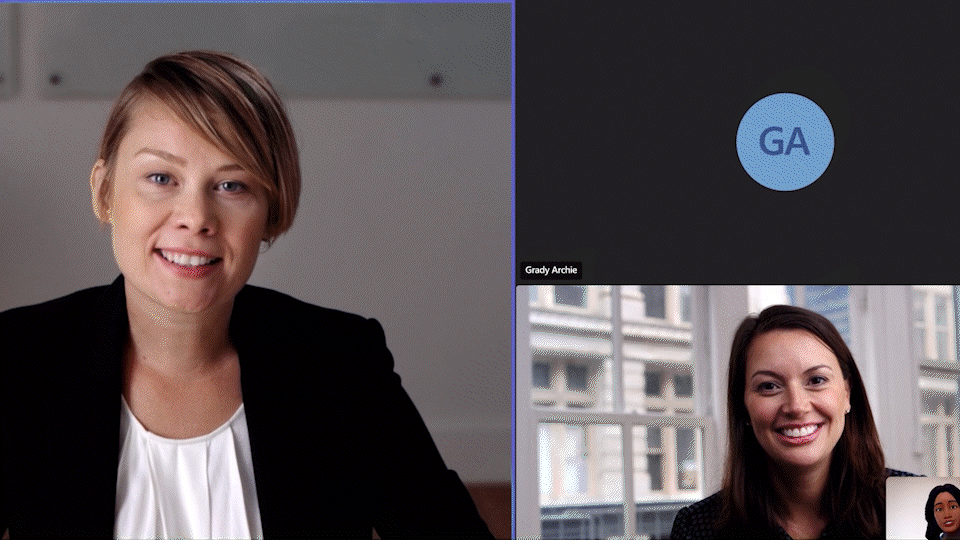 So here's the main points to know about Avatars:
They're available only on the desktop Teams client (Windows and Mac)
You can create 3 Avatars to represent yourself
Avatars are available to E3, E5, Business Standard, Business Premium and Teams Premium customers.
I wrote a whole blog post about Mesh Avatars in Teams some time ago, so if you want to learn more, check it out! 🎯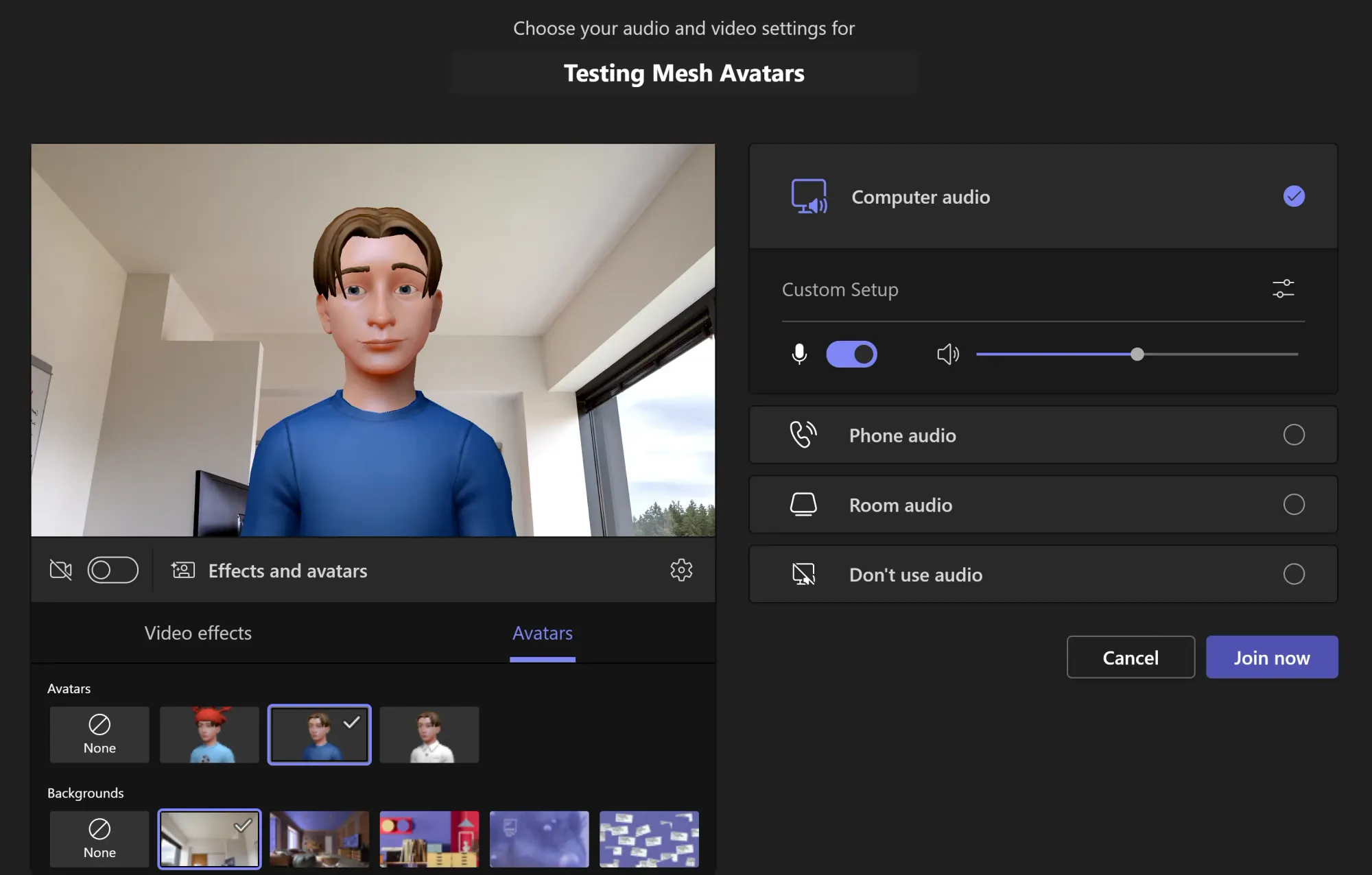 ---
Immersive Spaces in Microsoft Teams - Now in Private Preview
Many of us have been replaying those few second videos Microsoft has previously released of Immersive Spaces for Teams. But now, we finally know more and the feature is entering private preview!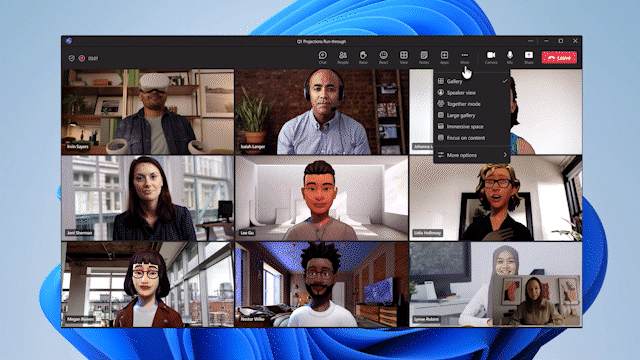 With Immersive Spaces you can jump into a 3D space in your Teams meeting, and really meet your colleagues "face-to-face" in a virtual world. You can jump into the immersive world just from your Teams-meetings View-menu!
Here's a few main points to know about features and availability:
Devices supported are PC's and VR Headsets
Immersive Spaces utilize spatial audio, so you can walk over to others and have a conversation without everyone hearing you or talking over you.
Private Preview starts in the Teams TAP program next week!
Custom Solutions on Mesh - Now in Private Preview
One of the main points highlighted about Mesh is the ability to create your own custom worlds that you can jump into. We've seen examples of this by Accenture and from the WEF a few months ago. It also seems like that interest in custom Mesh worlds has risen since the resent sunset of AltspaceVR, with people looking for a new home for their worlds.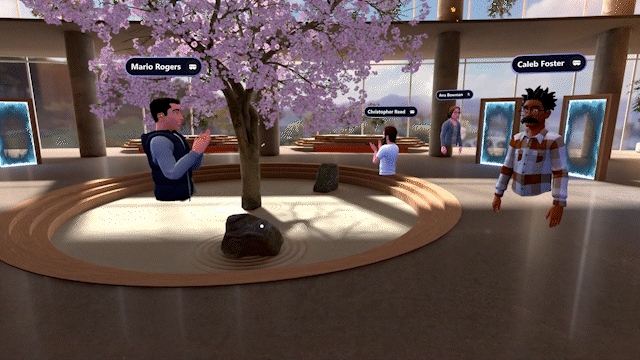 Building these custom worlds on the Microsoft 365 platform, companies have already been able to build immersive worlds that serve a variety of roles from company museums to totally rethinked onboarding experiences and beyond. And all this can be done with security and compliance in mind, since all of your data is safe and secure in Microsoft 365 cloud services.
Just like with Immersive Spaces, you are not required to use and wear a VR-headset, but can also join these spaces from your PC. Here's some of the technical capabilities highlighted for custom Mesh solutions:
You can use Unity to create environments or port existing ones into Mesh (think maybe AltspaceVR😉)
Use cloud scripting to insert Business Logic, AI, and anything you want with the power of C# and .NET
Add interactive content like videos and web content
Use realistic physics in your worlds.
Use event management tools to host and produce awesome events in the Metaverse
Custom solutions are now open to private preview, and companies can apply for a place in the program.
---
Now that sure was something! Some people were arguing that Mesh and the Microsoft Metaverse was already dead, but it clearly is more alive than ever, now even supercharged with the power of AI!
Are you excited for Mesh? Or have you already experienced Avatars in Teams? Comment down below! 💫