Stop Using OneNote and start Looping!
You should stop using OneNote NOW and replace it with Microsoft Loop! Learn what Loop is and why it's absolutely AWESOME! 💫OneNote vs Loop, which one wins?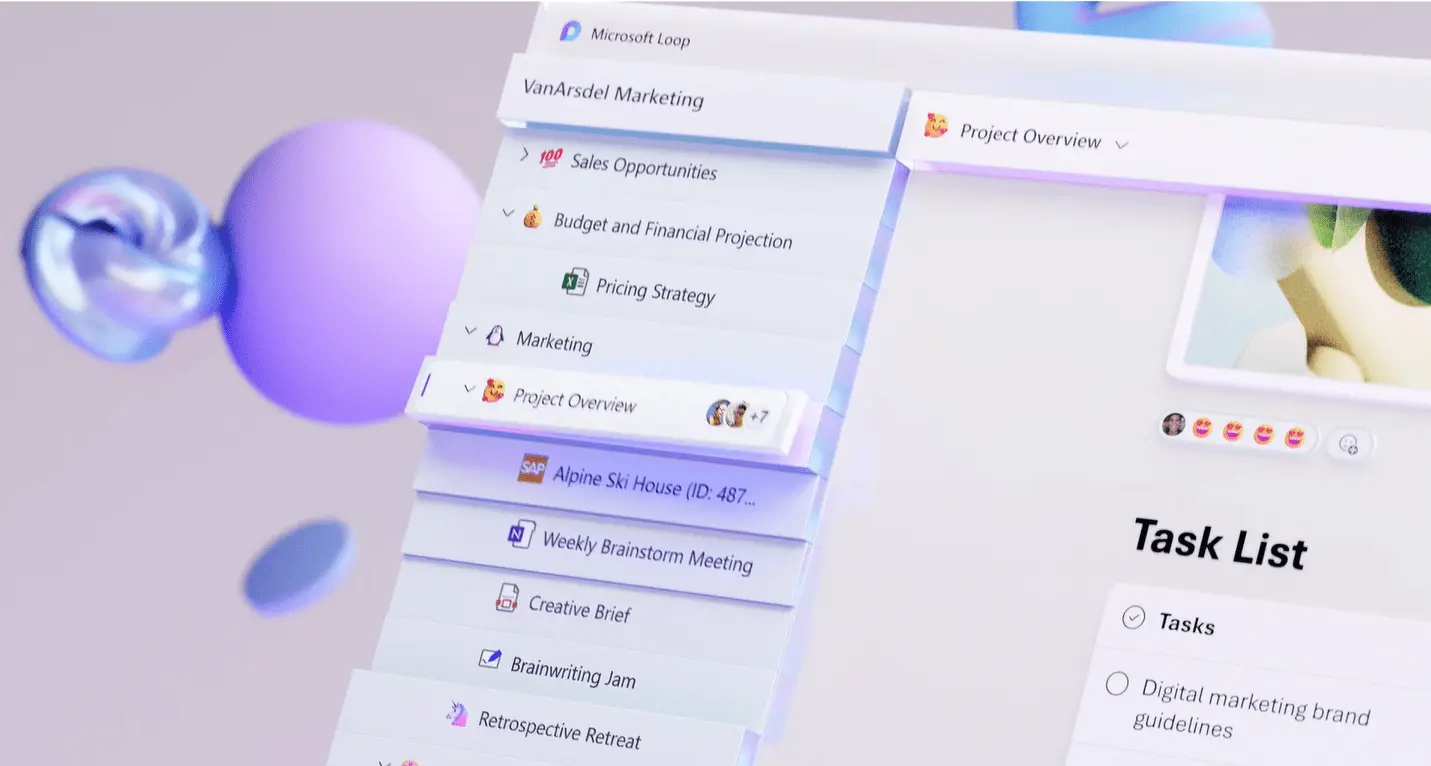 I've never really been a huge fan of OneNote. Over the years I've jumped through note-taking applications, returning to OneNote from time to time. Always some features really stood out to me as benefits, but at the same time it had a lot of issues. I always struggled with it's syncing capabilities, sometimes it just felt that an app in 2023 shouldn't struggle THIS MUCH with syncing your changes into the cloud in a timely fashion.
But lately, I've found an alternative to OneNote that is truly good enough to kill it at once. And that's Microsoft Loop! ♾️
---
What is Loop and how is it different?
The history of Microsoft Loop can be traced back to the Fluid framework, which was announced in 2019 as a way to create dynamic and interactive components that can be shared and updated in real time across various applications. The basic idea of Microsoft Loop is to combine a flexible and powerful canvas with portable components that stay in sync across apps, such as lists, tables, notes, and more.
These components can be used in Loop pages, which are shared spaces for co-creation, or in other apps like Teams, Outlook, Word, and Whiteboard. We've already started using Loop Components internally for quick planning together, and Microsoft is also replacing the old OneNote button on Teams meetings with a new collaborative meeting notes experience (which is now in Public Preview), that uses Loop components out of the box, so everyone can take notes, with built-in integration into To-Do and Planner!
---
Loop Pages and the Loop App
The best part about Loop is the new Loop App, which let's you use Loop as more than just a collaboration tool, but also as a note taking application. You can access Loop right now from https://loop.microsoft.com or you can download the mobile app for iOS or Android.
The Loop app is built around Workspaces, which you can use to organize your notes and pages. I would recommend creating workspaces for each project you're working on, to make sharing things inside of them easier. In addition to project-based workspaces I have a workspace called "Personal notes", where I then have pages for my own notetaking.
These workspaces can then be shared to others in your company, so you can share the same workspace for a project. Inside the workspace everyone can then add pages, collaborate or add links.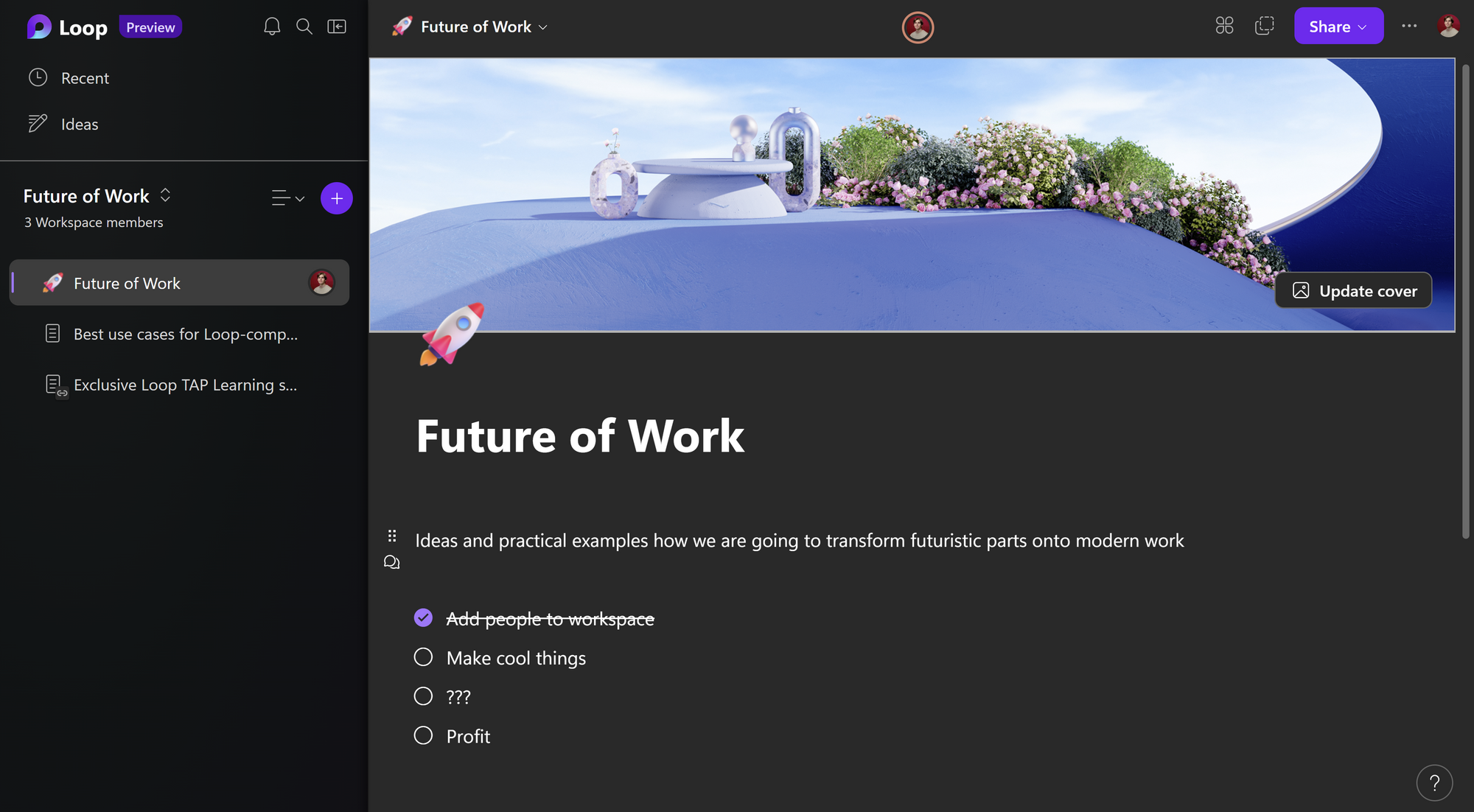 ---
What's next for Loop?
One thing I'm most excited about with Loop is how quickly it seems to be evolving and growing. We've already seem some great features that expand Loop into much more than just a glorified notepad, let's look at some of them!
3rd party app integration inside Loop
We have heard that Loop will integrate with other apps from third parties. The example shared at Build 2022 was that of SAP S4/HANA in a Loop Component.
Developers can easily extend their apps to be used inside of Loop components, and the development is based on Adaptive Cards, which M365-developers are already familiar with.
Copilot and Generative AI
Like many of you have probably heard and seen, Microsoft's generative AI helper Copilot is making it's way into Loop aswell. Copilot will help you brainstorm with your colleagues by making templates related to your work, and in a Loop manner, everyone can join in! What was showcased in Microsoft's Copilot-presentation was the ability for everyone to collaborate on prompting the Copilot, with a shared prompt history. The example showed was of creating tables with data from Dynamics 365, all in real-time and collaboratively.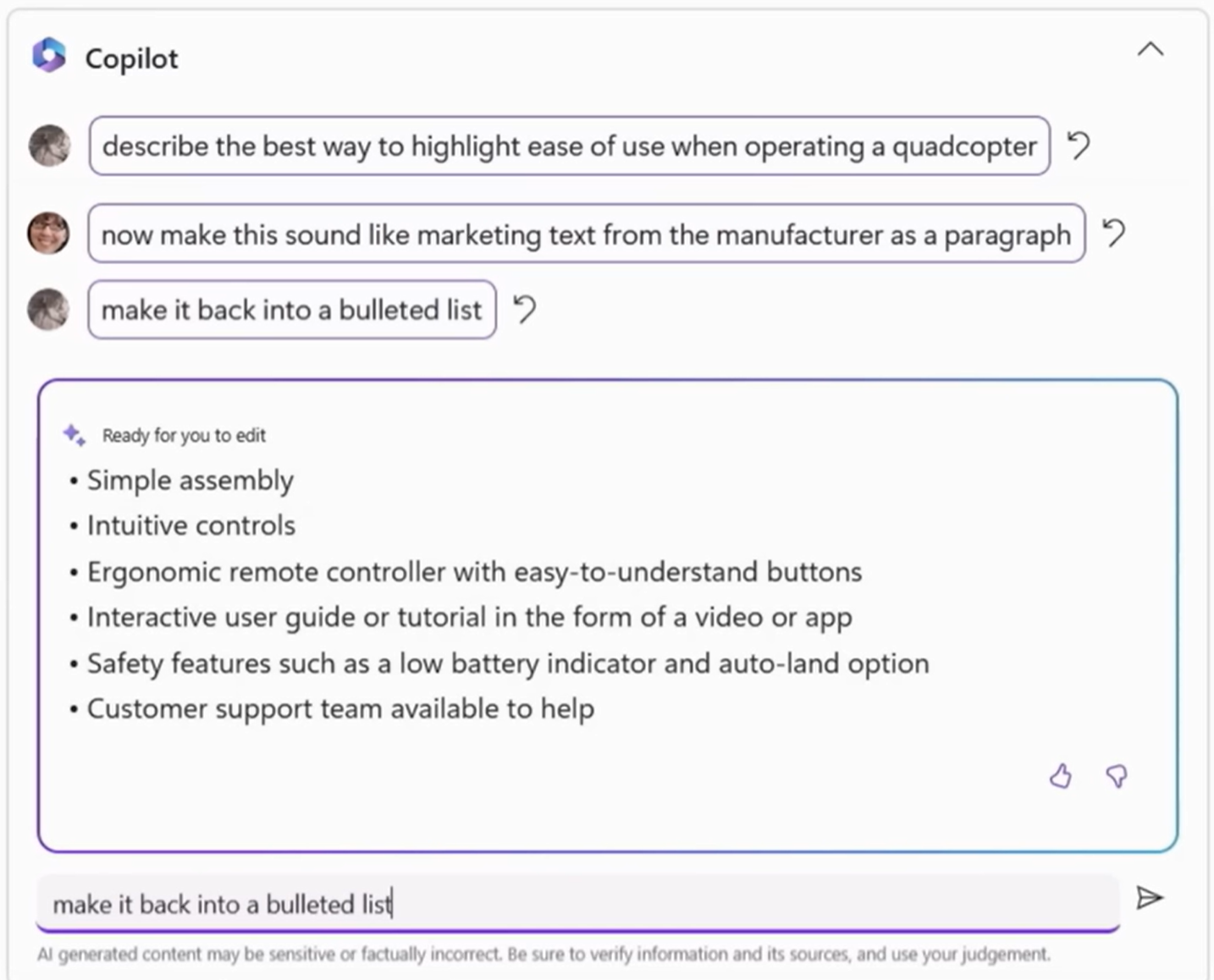 I happen to have access to M365 Copilot in Loop, so check out my other blog post showcasing what you can do with it and how it works: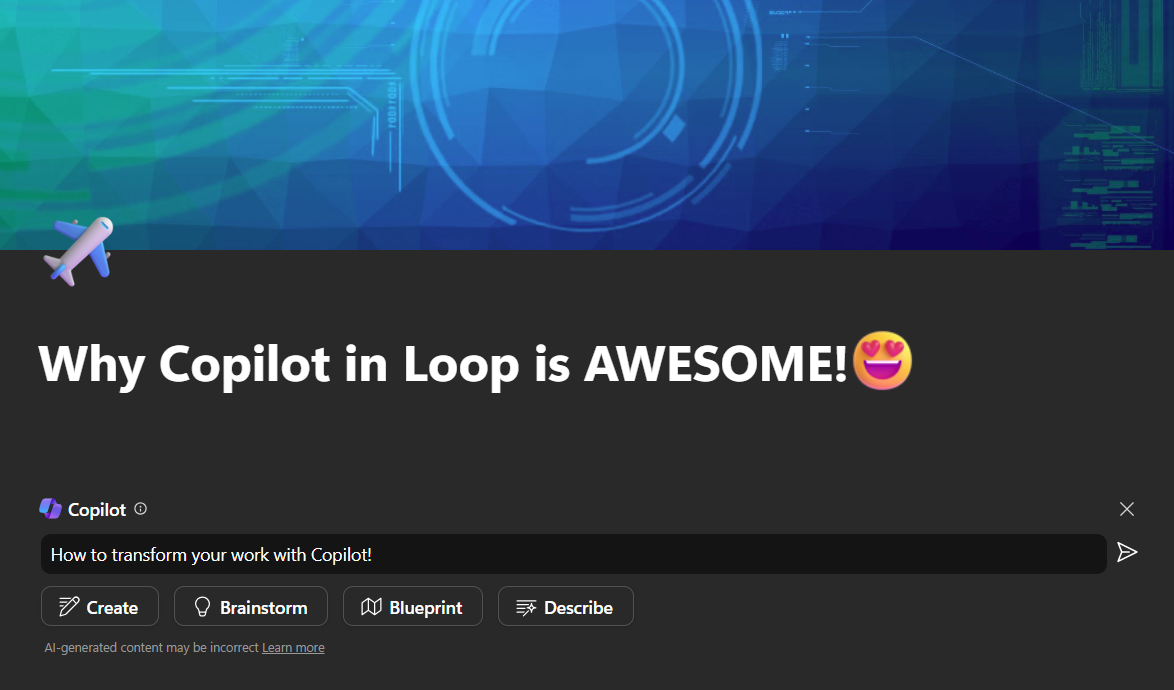 Loop pages in Teams
One thing that many could have missed if they weren't paying close attention was that in the March 2023 Copilot announcement event, Microsoft showcased a quick clip where a Loop page was included in a Teams team like any other channel. This could bring a lot more use cases to Loop, working as a central collaboration page for anything important!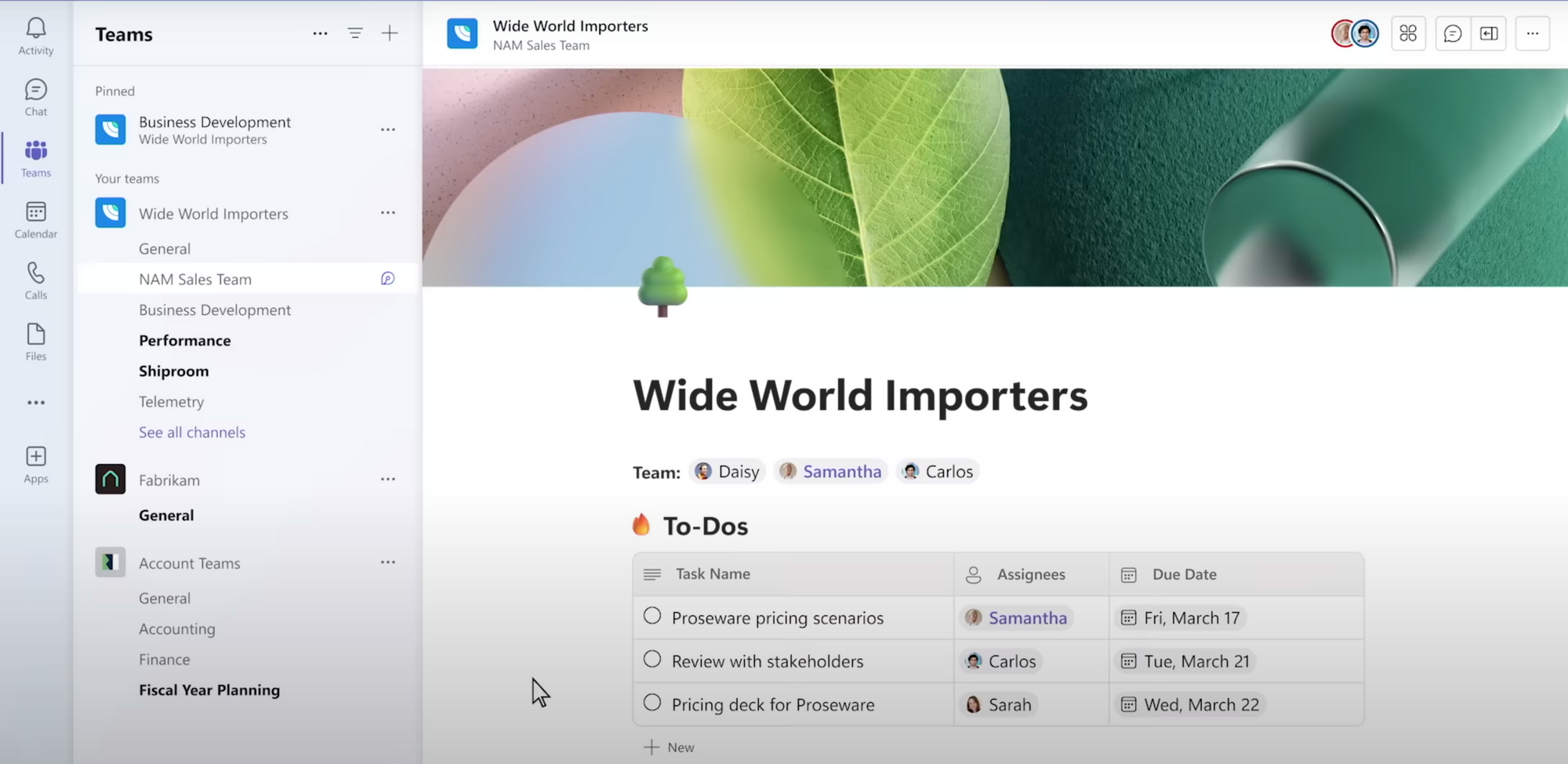 ---
Are you excited for Loop? Have you already been using it or are you still sticking with OneNote? One thing for sure is that Loop will continue to evolve into much more than just a notepad with a fancy UI! 🎯

---
If you enjoyed this blog post, you can buy me a coffee if you'd like!